The Council hosted our annual Family Night at Cody Park Rides on August 9th.  We provided FREE rides to all who attended and also distributed our Parent Resource Bags.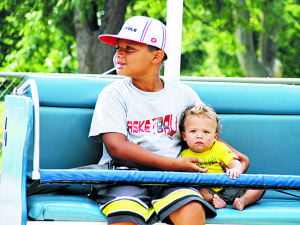 Families get a free ride
Posted: Saturday, August 10, 2013 3:00 am | Updated: 7:18 am, Sat Aug 10, 2013.
Families get a free ride By Diane Wetzel dwetzel@nptelegraph.com nptelegraph.com |                                 
The sound of the carousel's kaleidoscope rose above the laughter of young children at Cody Park on Friday as families enjoyed an evening of free carnival rides, compliments of the Lincoln County Child Abuse Prevention Council.
Members of the council handed out pinwheels for prevention, plastic cups and bags of information about the resources available to stop child abuse as the younger crowd enjoyed the rides
"We do a lot to raise awareness about child abuse issues, but the biggest thing we do is work to promote positive interaction between parents and children," said Nan Hynes, president of the council. "What kids really want is time with their parents. Good times with their parents."
An evening of free rides will not alleviate all the problems, Hynes said, but if a family can build on those events, it helps.
"We are really fortunate to have a place like Cody Park in North Platte," she said.
Typically, the council has most of its big awareness events during Childhood Abuse Prevention month in April, Hynes said. "This is something we want to do just before school starts and were able to get funding from the Nebraska Children and Family Foundation to make it happen."
Bright red tote bags emblazoned with the slogan "Rethink Your Reaction" contained information of local resources for parents.
The "Rethink" campaign encourages people to take a necessary step back when dealing with a child, said council member Mahaila Botts.
"We let people know that there are support groups available and help with parenting skills," Botts said. "Tonight is to encourage people to get out with their families for a fun night using the resources that are available here in North Platte."
"If people don't know there is support and resources out there, we need to let them know," Hynes said.
Child Abuse Prevention Council hosts awareness event in NP park